I've been associated with the Broken Frontier web site for quite a while.
Waiting For Trade
actually started out there as a weekly column back in 2007. Those columns are archived here:
Waiting For Trade: Broken Frontier Archive
I had to give up on the column as it was eating into my work schedule but I've kept in touch with editor-in-chief Frederik Hautain and with
the Broken Frontier site
which has developed into a very cool news and review site that pushes innovation, diversity and independence in comics.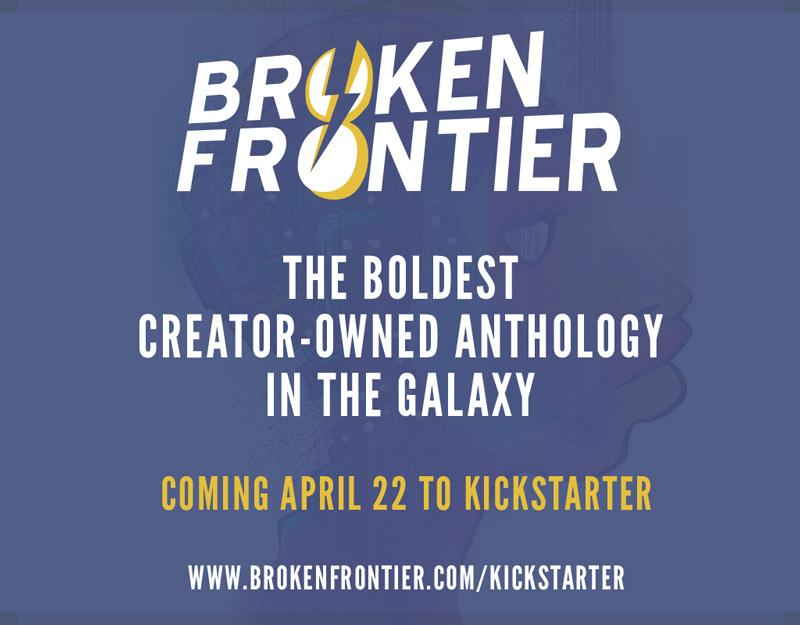 Now, Broken Frontier is branching out into publishing with the Broken Frontier Anthology, launched this week on Kickstarter. The book will be 250 pages of comics by established and upcoming creators, including Alison Sampson, who is co-curating the
Think Of A City
project and also drew this...
...and Cullen Bunn (The Sixth Gun), Carla Berrocal...
...Fred Van Lente (Marvel Zombies), Greg Pak (Action Comics, Incredible Hulk), INJ Culbard, who has recently published this...
...Jamie Coe (Art Schooled), Joshua Hale Fialkov (The Bunker, I Vampire etc.), Karrie Fransman (The House That Groaned, Death Of The Artist), Phil Hester (Green Arrow, The Darkness), PJ Holden (2000AD), Robert Sammelin, who drew this...
...Ryan Kelly (Saucer County), Tom Raney (Storm Watch, Avengers Academy and a bunch of covers for my District X series...) and lots more. It's a hell of a lineup and it also includes a story by myself and this geezer...


I've been collaborating a lot with Mark Stafford recently, not least on
The Man Who Laughs
from SelfMadeHero and
The Bad, Bad Place
in the bi-monthly
Meanwhile
anthology from Soaring Penguin.
After years of working for Marvel and DC on everything from
Civil War X-Men, Spider-Man Noir
and
Daredevil: Redemption
for Marvel to
Batman, Detective Comics, Azrael
and
The Brave and The Bold
for DC, I made a decision to move away from mainstream publishing to concentrate on independent and creator-owned work. It hasn't been easy. The pay for most of the projects I have done in the last few years, is decidedly low or non-existent and it's tough to reach the same sales figures as a
Batman
book. I recently did a
Spider-Man Noir
one-shot for the
Spider-Verse
event at Marvel and the sales on that one issue were probably higher than every book I've done in the last three years combined. It's heartening to see the Broken Frontier Anthology launching on Kickstarter, and I can't emphasise enough how important it is that this kind of project gets the support of the readers who genuinely want to see more independent, creator-owned material.
Cover by Robbi Rodriguez
If you want to read
Quin Returns
, an existential thriller, written by me and drawn by the inimitable Mr Stafford, as well as another 240 pages of groundbreaking comics, please do support the Kickstarter Broken Frontier Anthology. You get to own a great comic and we get to pay the bills.
CLICK HERE to go to the Kickstarter page for more information...